A Few Tips for Baby Nursery Safety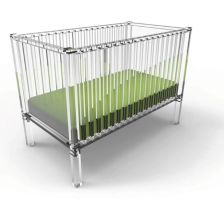 You may fill the nursery with branded accessories and essentials. Paint the room with the best appealing colors. And gather all the baby needs without missing any. But any due negligence on the safety of your luxury baby nursery will cause more damage than expected.
What to take care of when considering nursery safety?
Many aspects. Right from pillow cushions to toys that you add to the room, the brand pf paint to the curtains, everything needs double care to ensure maximum safety for your baby.
Here are a few tips for baby nursery safety that are easy to follow and can help designing a safe nursery for your baby.
Clutter
When we say clutter, do not wonder why clutter comes into the baby nursery. The clutter that we are mentioning can be in any form that we can ever imagine. They can be car keys, earrings, pens and pencils, unused magazines, teacups you might have forgotten, crumbs of snacks, and food items.
Anything that your baby essentially does not need is clutter in the room. Chances are that they pose dangers at unforeseen times. Hence, always keep the baby room clutter-free.
Curtains
When choosing curtains, make sure they do not get entangled in the baby's neck. Also take care that the rods do not fall, even by accident. Keep curtains always clean and dust-free to prevent allergy-causing conditions to your little one.
Extra pillows
Pillows work as cushions for cribs. But what if they fall on the baby's face in the middle of sleep? Better avoid extra pillows near the baby's sleeping area.
Windows
Babies might crawl and try to look outside the windows that might lead to dangerous situations. Fix protection gauges for windows. Take care that they have latches that come to help during fires.
Medicines
You might keep the baby's medicines and syrups so that they come in handy for immediate use or to remember better. But chances are that babies may accidentally consume them in your absence. Keep away all the medicines no matter what they are.
Electrical outlets
Cover all the electrical outlets. Choose protected electric plugs and sockets for kids' rooms such that your baby may not insert fingers into them. Close any unused sockets with insulation tape for better safety.
Choking
Choking is one of the dangerous risks among children. It might happen in any form. The stuff from the soft toys, or the beads from the crib décor items. Anything might lead to choking. Avoid all such items that might cause choking when your baby might put in the mouth during playing.
Wall paint
Opt for chemical-free paintings for the baby's room. They might demand initial cost from your budget but then they are safe for your baby. Such paints also impart a rich look to your luxury baby nursery.
Used furniture
Used baby nursery furniture can help save the budget if you are on one. But, before selecting used models of kid's room furniture and cribs, you should check the recalls. The State keeps updating the safety measures for kids periodically. Thus, any model of kids' room furniture that might have been recalled or outdated should not be chosen keeping in mind the safety considerations of the baby.
Toy organizers
Toys are indispensable for engaging kids and develop their cognitive skills. Thus, your baby will have tons of toys very soon before you realize in the form of gifts or your purchases. Make space for their storage in the form of safe to use storage bins and baskets without any sharp edges.
Mobile phones and related accessories
The habit of using mobile phones and leaving them in kid's rooms might lead to many consequences. You might leave the charger on, or the pen drive might cause choking, or any other mishaps are bound to occur due to the electronics and electric devices. So, avoiding them altogether in the nursery room is the best way to ensure the safety of your baby.
Conclusion
Babies grow up sooner than we realize. The nursery room should be the safest possible place for your munchkins to play and grow happily. Thus, taking every possible care right from the stage of designing the nursery baby room will only promise more desirable results.