What Parents Need to Consider While Choosing a Children's Clinic?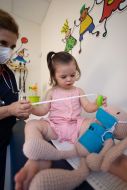 Choosing the right pediatric clinic is an important decision and one that you must make with due consideration. When it concerns the health of your children, after all, there can be no compromise. By making the right choice in pediatricians, you can ensure that your children will receive the health care they need to thrive and stay protected. Additionally, you will not need to change pediatricians as your child grows up.
To find the right Jacksonville children's clinic for your family, you must consider the following:
Is the children's clinic at a convenient location?
You want a clinic located close to where you live, either within walking distance or easy to reach in your vehicle or via public transportation. That will make it more convenient to visit it for routine checkups several times a year. The nearby location will also prove invaluable during emergencies. Knowing you can take your child to their doctor within minutes can relieve your stress and anxiety, and it will also make it possible for the child to get immediate treatment.
What are the operating hours of the children's clinic?
Ideally, you want the clinic's operating hours to align with your regular schedule. You also want to find out if the clinic will be open in the evenings and on weekends and holidays. Ask the pediatrician if the clinic will allow same-day or last-minute appointments in case of emergencies. Also check if they accept your health insurance. If it does not allow either of these, then it might be better to find another more accommodating clinic. As your child grows up, there are bound to be a few emergencies, and you want to be sure that the children's clinic you choose will have your back then.
What are the credentials of the clinic's pediatrician?
Pediatricians are medical school graduates who can work in their field only after completing a residency program and acquiring a state license to practice. You can find the framed credentials on display in the doctor's office, and the information is also available on the clinic's website and other reference websites. When checking the credentials, find out if the pediatrician has certification from The American Board of Pediatrics. It is a voluntary certification that pediatricians get after completing additional pediatrics training, and it endorses their competence in medical knowledge, patient care, professionalism, and communication.
It is also a good idea to read patient testimonials and get an insight into their experiences with the clinic. You can find out if they rate the pediatrician highly and if the pediatrician and the clinic staff are polite and professional. You can learn if it is easy to get quick appointments or if there is a long wait long before the doctor sees you. You can discover if they offer up-to-date medical procedures if the prescribed treatment was effective, and so on. Such details can inform you of what to expect if you choose that particular Jacksonville children's clinic.
Does your family doctor recommend the clinic?
Along with asking your family, friends, neighbors, and acquaintances to recommend a children's clinic, it will also be a good idea to sound out your family doctor about the clinic and its pediatrician. People in the medical field generally know about one another or they can get essential information from other medical professionals. If your family doctor has a high opinion of the pediatrician's medical knowledge and expertise and is willing to recommend the clinic, it is probably alright for you to choose it.
Do you find the pediatrician reassuring and easy to talk to?
You can take your child for an introductory visit to the children's clinic and observe how the pediatrician and the other staff interact with him or her. Are they showing a genuine interest in your child's health? Do they come across as friendly, kind, reassuring, and competent? Is the doctor open-minded, easy to talk to, and willing to discuss your child's health matters in detail? What is their treatment philosophy and what kind of approach will they take to treating your child?
As you will be seeing them frequently in the coming years, it is essential to find someone that you can get along with well.