Luxury Baby Bedding – It's All About Your Baby's Comfort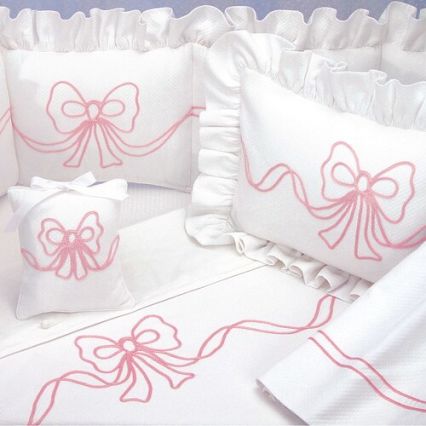 Luxury baby bedding needn't be a frivolous expenditure. Such products can be extremely comfortable for babies while also providing them with a feel of super bliss and delight. Buying luxury products for babies can also feel good to parents. Good quality luxurious baby bedding can also feel good to babies.
Why buy luxury baby bedding?
The Ultimate Comfort –
Luxury baby bedding can include items like sheets, pillowcases, quilts, blankets, and crib skirts.
These are essential items for babies. So, you can opt for styles that are opulent and more comfortable. Luxurious fabrics such as silk or very high-quality cotton are extremely soft. Such materials can be soothing for babies' skin. Natural silk and organic cotton are also free from allergens. Bedding made from such materials will keep your baby's skin free from rashes and itching.
Luxury bedding is most often made with natural fabrics such as silk or cotton. So, such items will be breathable and cozy. Your baby's body will be able to maintain a stable temperature throughout the night when covered with quilts or sheets made with non-synthetic materials.
The extra comfort will aid to your baby's good sleep, which is extremely important for their optimal growth. When your baby sleeps well, it will also ensure good sleep for you and your partner.
Feel Good Vibes –
Luxury feels good – be it in the form of bedding. Soft materials and soothing colors will add to the vibes of the nursery. Space is defined by energy. When you use luxurious items in a room and if it makes you feel good; it will add to the positive vibes in that space.
The nursery space will, thus, exude vitality. Such a good energetic space can be extremely healthy for babies. It will also feel good to you.
How to buy luxury baby bedding
Luxury bedding is more than just its price tag. The quality of the items must justify its price. The bedding must be really opulent in terms of the materials, design, and the overall quality.
 Think about the kind of fabric you want for the bedding. You can choose from opulent silk to super deluxe cotton. Choose cotton satin for really lavish material. Select silk satin or doupioni silk for soft and lush baby bedding.
 Make a list of the items you want to buy. You may already have different sets of baby beddings. So, perhaps you will want just one set in silk or cotton satin. Perhaps you wish to buy extra silk sheets or just the quilt. Perhaps you want to buy luxury beddings for gifting purposes. Whatever your requirements; making a list prior to the shopping makes it easier to spot the right items.
 Check online stores for luxury baby bedding collections. It will give you an idea about what is available in the market. Checking online catalogues will also help you to easily compare the prices of different items available at different stores. There is another benefit of checking beddings online. If you are shopping during your pregnancy, you can do so from the comfort of your home. If you are shopping after the birth of your child then you wouldn't need to worry about baby's feed and sleep timings and arranging for a caretaker etc.
 Check the sheets for thread count. Higher thread counts add softness to a fabric. So, consider it when choosing cotton luxury baby bedding.
 Consider different colors. Mix and match the bedding sets to the crib or the wall paint in the nursery. Opt for softer hues that will be soothing for babies; such as powder blue, baby pink, cream, peach, etc.
 Pay attention to the design of the bedding sets. When you are buying luxury items, their design must be unique and special. If you don't find anything distinct enough as per your taste then opt for customized bedding sets.
 Bookmark the items you like. Don't finalize your purchase before you have seen different items at leisure. Once you are sure of what you want to buy, finalize your purchase.
 Refrain from buying all bedding sets at one go. Shopping at different times will give you access to newer collections.