Four Great Reasons to Buy Romina Baby Furniture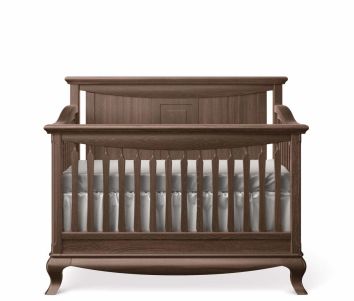 It takes time and effort to find the right furniture for your baby. The furniture needs to be perfect in every sense for you to want to spend your money on it. After all, you need to use the furniture for your baby and nothing short of perfect will do.
When it comes to our children; we want the best – always. Romina baby furniture is one brand that offers parents not only quality furniture but also peace of mind.
About the Brand
Romina is a European baby furniture brand founded in Romania in the year 1991. In 2006, the company ventured into the US and established itself firmly as a reputed baby furniture brand. Romina baby furniture is available with more than 85 retailers in different parts of the world.
With experience and expertise spanning three generations, Romina baby furniture is crafted with passion and for perfection. The company manufactures its furniture with raw materials sourced from Europe and maintains its own production facility. There are no third-parties involved in the production of Romina baby furniture. The final result is evident in perfect craftsmanship, quality, and safety standards.
Consider these four greats reasons to buy Romina baby furniture.
Sturdy Quality
Romina baby furniture is made with 100% hardwood. Only the finest quality of wood is selected to make Romina baby furniture. The company treats the hardwood with the respect it deserves. The material is treated right and shaped using quality tools and the highest manufacturing standards.
Romina baby furniture is built to be sturdy and durable. The manufacturing process is inspected at every stage to ensure the best outcomes.
Non-Toxic
Baby furniture needs to be safe. But it is difficult to find furniture made with non-toxic material. Oftentimes, parents may not even recognize the toxins hidden in plain sight in the form of paints on baby furniture. But such is not the case with Romina baby furniture.
The company ensures that only organic finishes and glues are used to make Romina baby furniture. When you use Romina baby crib or other furniture items from the brand; you can be at peace knowing that your little one is safe from harmful fumes. Paints and glues can release toxins in the form of VOC (volatile organic compounds) or formaldehyde emissions. These toxic gases can enter your baby's bloodstream via his or her breath and cause harm. But there are no such risks when you use Romina baby furniture.
The company uses organic and water-based finishes, which are non-toxic. Romina furniture comes with GREENGUARD Gold certifications. The certification means that a specific interior product produces low or no chemical emissions.
Safe
Romina baby furniture is tested properly and only then certified to use at home. The company ensures that its products are periodically tested for CPSC standards. Consumer Products Safety Commission (CPSC) is a regulatory body in the US for consumer products. These standards are put in place to reduce the injury risks from the use of consumer products.
Romina baby furniture not only meets CPSC standards but also exceed them. Baby furniture must be safe in every way. When you buy Romina baby furniture, you are investing in the safety and good health of your child.
Appealing
Of course, your baby's first furniture needs to be appealing too. Baby furniture Miami is an integral part of your baby's initial growing years and those precious childhood memories. So, everything needs to be perfect when it comes to your baby's care and items you need for the purpose.
With Romina baby furniture, you don't need to compromise on the aesthetics of the furniture over quality and safety standards. Whether you buy single or double dressers, nightstands, cribs, baby stations, or any other furniture item from Romina; you can ensure that each product is appealing and beautiful.
Romina baby furniture is available in neutral colors to match any wall color, décor, and room style. You can enliven the natural wood color of many of Romina baby furniture items with colorful accessories such as sheets. Each item is available in many different shades. So, you can choose one as per your preference.