Drawing Class for Kids – Sharpening Your Kids Talent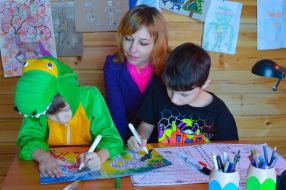 Managing kids' interests is very important for their growth. When we as parents encourage the innate love for arts and other activities that kids would like to pursue, they find it very encouraging to move in the direction of their dreams. Drawing is one such art-based hobby for children that will develop their creativity and talent. Besides engaging kids in the drawing is one activity that you can engage your children in amidst this lockdown and pandemic situations.
Most of us believe that kids draw for fun or just to pass time. While this may be true to certain extent, if we can hone this talent, it works wonders for them. Experts say that kids who draw are good at many other aspects of their growth and life too. For instance, kids who excel in drawing perform well in math and science too. This is just one of the benefits if you encourage kids to draw. Arranging drawing classes for kids has many other benefits too.
Improves interpersonal skills: Kids get to meet many other children at their drawing classes. This helps to teach them how to interact with other children or work along with them to do any activity collaboratively. If your child is a single child, sending them to drawing classes will be a lot beneficial in this aspect.
Gives them professional guidance and mentorship: Teaching drawing to kids need patience as well as the know-how of how to drive the techniques to them. Drawing classes will have trained and certified drawing teachers. They can explain the right techniques of drawing to your kids with utmost patience and in the right way. Thus, instead of thinking to let kids draw on their own in the home, send them to good drawing classes for kids near you for better mentorship.
Develops their expressiveness: Drawing is a way of expression for children. What they cannot tell in words, kids draw and express. As a parent, you must have already received "Love you Mumma" "Love you papa" cards from your child. It's a way they express their inner feelings. Didn't receive it yet? Well, it's time to send them to drawing classes and be ready to get surprised to receive such cute drawings from them.
Boosts their memory and attention: Drawing helps keep the brain sharp. Kids who draw give ample work to their little brains. This keeps their brain active, which reflects in various other aspects of their life. Their memory power increases, and their observation skills improve.
Instills discipline: For kids, drawing seems a lot of fun, and yes indeed it is. But as kids grow, they need to take the work in a more disciplined approach to hone the inner talent in them. This is what drawing classes accomplish. They teach children much-needed discipline. This helps in their other areas of life and helps them grow into a responsible individual.
Nowadays, most drawing classes are organizing online classes too for their students. If you run short of time for your child to drop and pick them to and from the classes, you would opt for such online classes too. But, the above-mentioned benefits would be obtained in greater proportion if you send your child in person to the drawing classes. They would mingle with other children, and the peer influence works wonders in answering their age's curiosity and the need for friendship. They would also learn to work in collaboration as well as understand the need for helping others and receiving help.
Drawing classes for children are now available in many places. The secret for obtaining the best of the benefits is to choose a reputed one that is maintained hygienically and contains trained and certified teachers. If you are in the process of choosing a drawing class for your child, make a list of all drawing classes available in your area. Then visit each one in person and understand the facilities and the expertise of the teachers there. If possible, take your child along and ask him if he liked the classes and the premises. Many proven drawing classes permit for 1-2 demo classes too. So, don't miss to check this option. Happy drawing time for your child!