Camping Vacation – How to Make the Most of Your Next Camping Vacation with Your Kids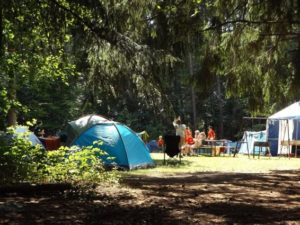 Camping with your kids can create a lifetime of happy memories. But if you don't plan it right then things can take a turn for the worse and your camping trip can turn into an ordeal; and worse – a nightmare of a vacation. So, it is important to organize the trip to the last detail. Here's how you can make the most of your next camping vacation with your kids.
Choose the Right Camping Site
When going on a camping trip with kids, it is best to plan it well in advance rather than to go on an impromptu adventure.  You can choose the camping site depending on the age of your kids. If your kids are quite young then it is best to choose a camp that is set up in national or state parks. You can also find camping resorts that offer all the fun and adventures but in a safe manner.
You can search online with keywords such as family camping vacations near me to find out such places. Check the websites of the camping sites or resorts that you find on the search result page.
Thoroughly assess the location of the camp, facilities available, and the rates. It should be safe and hygienic. The campsite must be in compliance with the hygienic norms set up by the authorities.
Choose a campsite that is perfect for your family's needs. You can do so by taking the steps mentioned in the point below.
Check the Facilities
Don't simply go by word-of-mouth publicity or the camp's aesthetics. Check the website properly to know more about the campsite.
In safe camping sites, you can choose from a number of accommodation options without worrying about your family's well-being. For instance, you can stay in cabins or tents, and even RVs depending on your kids' preference.
Check the activities available at the camp. Kids can get pretty bored pretty fast if all they can do at the campsite is to sit by the fire or go on hikes. Really good campsites have activities such as fishing, scavenger hunts, maze, and rides.
Games can include laser tags, paintball, cornhole, etc. with an outdoor setting. Themed weekends, swimming pools, art, and crafts, etc. are other facilities available at kid-friendly camps. Look for novelty activities such as gem mining and dedicated adventure areas. You may be even able to plan a birthday party at the camp for that special treat for your kid.
When going for a weekend trip, find out about the nearby attractions as well. Popular campsites are built in such a way that campers have easy access to sporting events, cultural activities, and fun outings in the vicinity. Choosing such a site will provide you with extra avenues for fun activities with your kids.
Inquire well in advance if the campsite is pet-friendly. Carefully check the pet-friendly policies so that your animal companions are not distressed at the campsite. 
Check the rates for both day-long camping trips and for the whole weekend. The rates must be in accordance with the facilities available at the camp.
Reserve your Spot
When camping with families, it is best to plan properly in advance.  You can easily make reservations online via the camp resort or park's website. Depending on your head start, you may be able to reserve the accommodation you desire.
Ensure that you check on the website the reservation and cancellation policy of the camp resort or park.
Inquire about the Gear
Camping requires campers to ferry a lot of gear and stuff such as tents, tarps, stove, flashlights, batteries, fuel, insect repellants, sleeping bags, first aid kit, food, etc. You may not need to carry your gear when going to established camps with good accommodation options. You may even have restaurants at the campsite.
But it is still wise to carry flashlights, extra batteries, sunscreen, insect repellants, appropriate clothing, medicines, water bottles, and snacks when camping with kids.
Refrain from Over-Planning
Fight the temptation to plan the camping trip excessively. Simply take care of the basics mentioned above and let your kids choose the activities to do or miss once they are on the campground.