Art Classes for Kids – Five Benefits That Last a Lifetime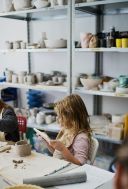 You all will agree to this, "Kids give real meaning to life"! The way lightens up everything, it is their creativity that makes them do things that an adult can never imagine. And when it comes to art, honestly, I feel that kids are the real artists. Be it drawing on the walls of the house of painting with their messy little fingers or coloring the coloring book, all these things give them real happiness. Then how about enhancing these skills that would be with them for the rest of their lives? As parents, we understand that we want the best for our children, and there are these few things that if taught at a young age would benefit for a lifetime. So, if you have been thinking to enroll in online art classes for kids, be assured that you are doing the right thing.
Since the pandemic happened and the schools shut down, the demand for online classes has grown beyond imagination. And especially online art classes have become popular with the kids. These classes have much more to offer to your kid that is greater than just fun. Thus, read about these five benefits from the art classes that your kids would carry with them for the rest of their lives.
#1 Builds confidence and self-esteem
There are different types of art forms and your kid needs to decide which one to opt for and that is the first step where the confidence starts to build up as the decision-making process starts. If your kid wants to opt for watercolor painting classes, then this becomes his or her independent choice and expression that would build confidence in themselves and their capabilities.
#2 Development of motor skills
The most important development that should take place among kids and toddlers is motor skills. And these art classes especially focus on developing those. The different types of art forms like painting or sculpture drawing etc need a variety of tools to be used. And for kids, it is difficult to hold those big brushes and pencils with their tiny fingers as their muscles are still developing. But all these things like holding a pencil or scribbling with colored pencils or crayons or using the scissors, all enhance the motor skills which are an important part of the physical and mental development of the kids.
#3 Developing concentration
Art is going to be a long process for your kid. And as your kid grows up, that art would become different and complicated to create more visions for your kid. And this change would require attention, concentration, and patience in your kid, and don't worry your kid will shape into it by learning to concentrate on the complicated things. The concentration would give your kid a perspective and excitement to see the end of what he or she has been creating for a long time and that is an important lesson that your kid will carry for a long time.
#4 Art helps them to express their emotions
Developing that emotional quotient among the kids is important to value them the life lessons and art exactly does that job. Art helps the kids to express all their emotions in the most innocent manner and teach them how to control them, be it happiness, frustration, or anger. When your kid draws something, it is his emotion that is seen on the paper and that is what helps them to become a better human being as they grow up.
#5 Art awakens neural senses
For the holistic development of your kid, it is important to develop all the neural senses in the body and art helps develop sound, touch, taste, smell, and sight. So be it mixing one color with the other or drawing a mountain or a circle or drawing a butterfly from imagination, the neural senses work together when your kid is performing any art activity.
As parents, it is your duty to encourage your child to explore that artistic side and enroll him or her into art classes for kids. There are more benefits than of art as these are just a few important ones. So do not wait and sign up your kid for an art class right away.